The different stages of writing.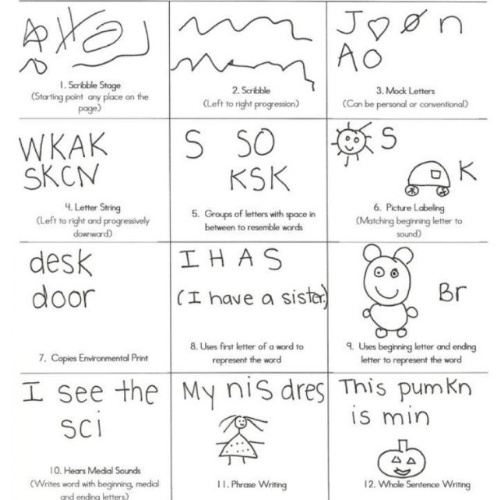 To help you support your child when they are starting to write take a look at the picture above to see how many different stages there are along their journey to becoming confident writers.
See if you can identify whereabouts you think your child is?
Knowing what stage they are at might help you to feel less worried about their writing as you can see what the next small step will be.
The speed at which your child moves through the different stages varies wildly between children. Do not worry if they take a long time to move from stage to stage as this really does not mean that they will not get there and be just as good as their friend who seems to be writing loads!
Writing is a little bit of a light bulb moment for children. All of a sudden different skills will click! But that really does vary between children . Sometimes the children can pick up that the grown ups are worried about how well they are writing, so try not to worry. Encourage, talk about and value what they have done.
We would normally have done a Parent's writing workshop in school at this time of the year. However, the 'Lockdown' has made that tricky! So, over the next couple of weeks I will put more videos on to show you the strategies we would normally do at school that can help the children with their writing.
In the meantime, any writing you can do with your child in response to one of our blog challenges would be brilliant. But most importantly we want the children to enjoy it and see a point for doing it. If it ever becomes difficult and your child loses confidence change tactics and you write with them so that they can see you having a go too!
I found a nice clip from a video that talks you through some of the main stages of writing that you would see in a Foundation Unit. The original link is https://www.youtube.com/watch?v=VHJv6DH8H9c but I have shortened it slightly.
I have attached the picture with the 12 stages of writing below should you wish to print it out.