An exciting visitor!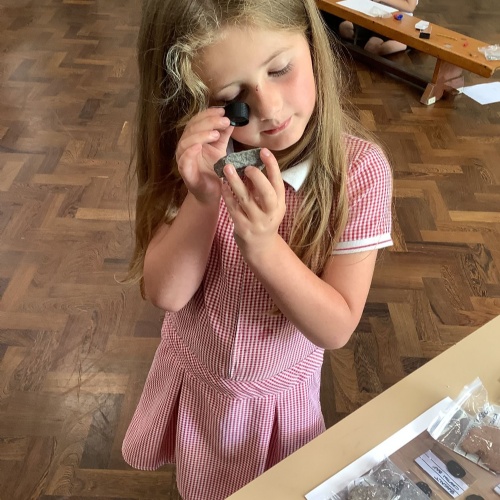 We had an expert pebble spotter visit us today as part of our Tremors topic!
Hello!
Today we had an expert pebble spotter and writer Clive Mitchell from BGS visit us and talk to us all about the different types of rocks we can find, how they are formed, and he even answered some of our super tricky questions! The children thoroughly enjoyed their afternoon and were ready to soak up even more knowledge on rocks!
We also had the opportunity to touch and feel different rocks found on Clive's adventures and looked at these closely under the microscope to help us identify them as well as sketch our chosen rocks!
Clive was incredibly kind to us and even gifted his book 'The Pebble spotter's guide' to our class which you can find here: His book! The children are already keen to get their hands on it!
He has told me this a is a fantastic link to look at the 'Pebble Spotters Facebook Group' is here: https://www.facebook.com/groups/pebblespotters where you can also see some of their drawings from today.
There is also an exciting Geological Walk happening in BGS should they wish to continue their pebble spotting adventures: https://www.bgs.ac.uk/about-bgs/our-facilities/geological-walk/
Thank you Clive from all of Sweet Pea class!