Tree planting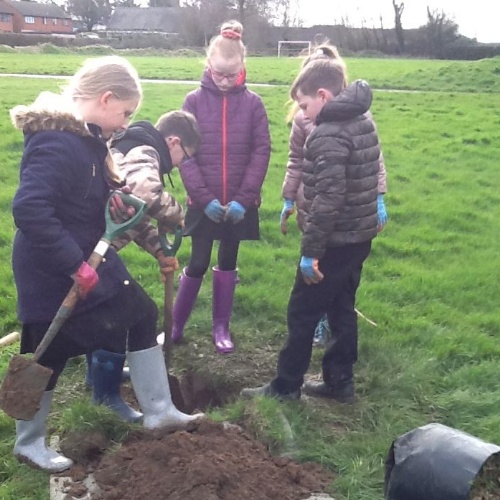 Today was the day we finally got to plant the trees!
Just over a year on from the Pupil Parliament meeting where our school council learnt about a tree planting scheme, we have been able to plant lots of wonderful trees in our school grounds!
Nic and Janet from the County Council scheme helped all the children from Year 1-6 plant the trees in our grounds. Luckily the rain stayed away, but parts of the grass were quite wet! The children were very sensible and learnt a lot about tree planting. Our lovely foundation children came along to offer some moral support in the afternoon - the digging was quite hard work!
We have planted cherry trees, silver birch and a variety of smaller trees. They will provide shade on part of the field used by the children at break times during the better weather and the rest will provide the start of excellent outdoor learning opportunities for the children.
Have a look at all of our photographs: