NSPCC Virtual Assembly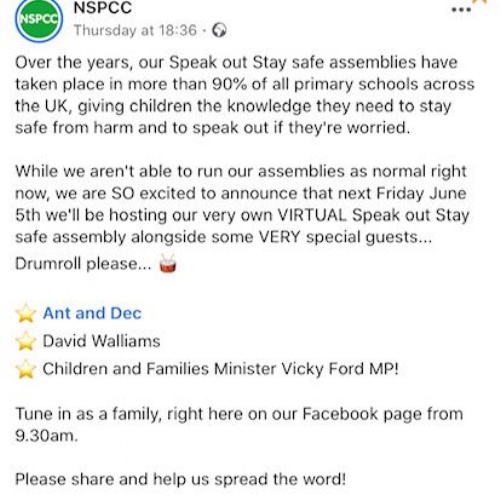 The NSPCC normally come in to school once a year to remind the children of the knowledge they need to stay safe from harm and how they can speak out if they are worried. This would be a good use of 20 minutes on a Friday morning!
The NSPCC Facebook page states that this assembly is suitable for children aged 7-11 years old. It will also be available on the NSPCC website and on YouTube in case you miss it at 9:30am
CLICK HERE to visit the NSPPC web page for more information.
Speak out Stay Safe
1 in 5 children in the UK have suffered abuse, robbing them of their childhood. That's why we're visiting primary schools across the UK and Channel Islands to give children the knowledge they need to stay safe from harm and to speak out if they're worried.
Due to the coronavirus pandemic (COVID-19) our Speak out Stay safe assemblies and workshops are postponed until the autumn term. Although we're not running our assemblies as we normally would right now, primary school children across the UK can join Ant and Dec and David Walliams at 9.30am on Friday 5 June for a special assembly in partnership with the Department for Education.
Featuring highlights from our hugely popular Speak out Stay safe assembly, our assembly will help children understand what's happening currently, why they may be feeling anxious or worried, and where to get help if they need it.