Our First Family Friday! - Come and join us for International 'Dot' Day.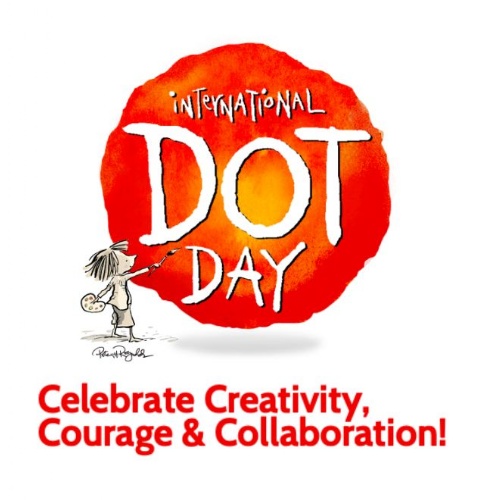 We are keeping you busy next week with a phonics evening on the Thursday night (19th) at 6pm and then our first 'Family Friday' the next day (20th).
So, here we go with our new idea....
We are inviting any parents or carers of the F1 Seahorse and the F2 Starfish children to come and join us in the hall straight after you have dropped them off in the Foundation Unit at 9:00am on Friday 20th September. Younger siblings are also welcome as this is all about 'Family time'.
Drop your child off as usual so we can settle them down and do the register. Then if you could walk around the front of the school to the main door we will welcome you into the hall.
The children will join us as soon as they have been registered when we will read the story 'The Dot' and show you some of the work we have made as a result of being inspired by the book.
We will also take the time to demonstrate our 'Sign of the Week' so that you can see how we are teaching the children all different types of communication.
After that we will take the children back to their classroom so that they can have their fruit and milk and resume their school day as normal whilst you have a nice cuppa, biscuit and chat with Mrs Gerrard and Miss Robinson. Mrs Lindley will find it hard to stay away, so you will probably see her too!
We might also use this time to keep you informed of any resources you might find useful.
We obviously understand that not all parents can make a Friday Morning and wouldn't want their child to miss out. Don't worry, we will have some adults to help with unaccompanied children, so they get a chance to be part of the experience too. Alternatively, if you can't make it one week but you have arranged with one of the other parents for your child to go with them, just let us know and that would be great too.
We also have a couple of other times available for you to come into school on an individual basis should you only be free on other days - Come in and chat to us and we will try to be as flexible as possible.
The first 'Family Friday' will probably take about 40 minutes in total as we get used to a new routine.
The following Friday is actually a whole school assembly for Harvest Festival so we will resume 'Family Friday' on Friday 4th October where we will introduce you to our lovely 'Story Sacks'. You will also be able to browse through the visiting book fair that is in school that week. Your very own private viewing.
We have lots of ideas for our Family Friday's including library visits, Farm shop trips to buy five fat sausages so they can sizzle in the pan. We are even looking at a trip to the swimming pool! We hope you will really enjoy the sessions and your support will play an important part in making them a success.
Looking forward to seeing you next Friday (20th) at 9:00am.
If you have any questions come and have a chat or use our Foundation Unit email address
superstars@keyworth.notts.sch.uk
Kindest Regards
Mrs Lindley.