A gallery of monsters!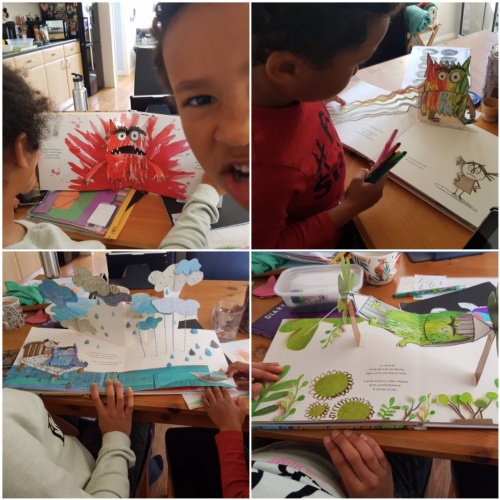 Guess who actually had the colour monster book! It is actually a pop up book too.
Look at how the clouds actually stand up in the sky. Look how the angry monster bursts out of the page!
There were lots of monsters n Keyworth yesterday and they were all different colours!
All of the pictures had writing to go with them too that told me how they were feeling. Thank you so much for helping with their writing. There is a wide variety of ages and stages of writing on this blog so don't ever worry or compare your child's writing with anyone else's. We want them to enjoy putting pens to paper and will be thrilled with their efforts. Today I will be putting together some help and guidance about writing and what to expect, so watch this space.
Look at all the amazing Monsters and other activities that were sent in yesterday.
So one of the reasons we chose the monster book this week was because we knew the children would be starting to become unsure about what was happening at the moment. We have had quite a few parents letting us know that their children are not quite themselves and can at times be feeling quite anxious. We wanted to let you know that you are not alone and that it is happening to a lot of our families.
As grown ups we are getting quite anxious at the moment but we can talk it through with each other as we have got the language and experience to put our thoughts into words. Unfortunately, our children do not yet hve this skill. All they have is a feeling and they just know that they don't like it.
That is why this week we are trying to send home activities that help the children get some of their emotions out or at least give them some way of showing how they feel. So here are a few more ideas to try today that you could keep handy each day should you feel your child needs some emotional support.
So whether it is having a go at the hand breathing exercise, creating your own mood-o-meter or even creating your own straw blown emotion monsters. Let me now how you get on. Don't forget you can contact us via your Tapestry journals or our class emails if you need some more ideas or any help.
starfish-teachers@keyworth.notts.sch.uk seahorses-teachers@keyworth.notts.sch.uk
later in the day I will also be sending you more reading books or ditties to keep your reading going over the next few weeks.