Are we ready for a r r robot challenge next week? No we are not!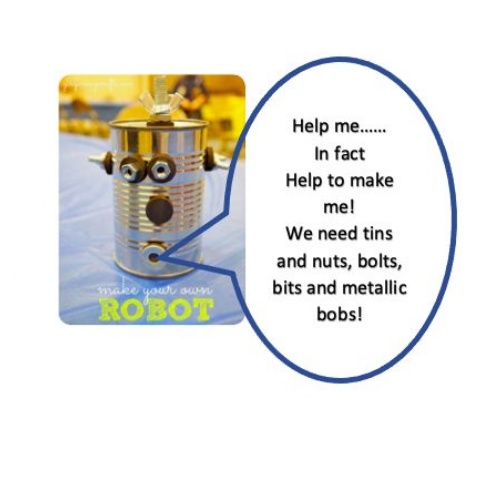 Sneak preview of our theme next week.
We are hoping to help the children make their very own small tin sized metallic robot next week but need your help!
We wondered if over the weekend you could make a little collection for your child of one tin and a few little metal objects that they could use to stick onto their tin to make a robot.
Rummage in the back of those drawers for those bits and bobs that you don't have a use for. anything small and metallic will fit the bill perfectly.
We will be showing them the wonder of a glue gun later in the week and they will be designing their robot according to the objects they have brought in.
In line with the Covid restrictions we need to leave anything they bring in quarantine for 48 hours so please could you put anything you have spare in a plastic bag with their name on and we will put them in their red boxes until Wedsnesday. Then we will let their creative juices flow.
Get eating those baked beans or spaghetti hoops and emptying a tin!
I can't wait to have a go myself!
Mrs L