OUR WORLD AND OUR QUEEN!
This week, we will be consolidating all the information we have found out about the wonderful world that we live in! We will ve revisiting all of our big ideas questions and key vocabulary. We will be setting up the classroom in the style of different countries. We will be making passports, boarding a pretend plane and checking in and experiencing different activities from all around the world!
We will be watching and singing along to this lovely version of 'What a Wonderful World'
We will be finding out about the Queen's Jubilee - 70 years on the throne! We will be making flags, crowns and some yummy treats to celebrate!
Watch this lovely animation... After a sudden burst of wind in Buckingham Palace, the Queen's hat gets carried away around London. Fortunately, a trustworthy guard and a playful corgi run after it!

The children are wowing us applying their phonics skills to their reading and writing - keep up the super work little explorers!
Have a go at this game at home (the children love it in school) - you have to blend the word and see if it's treasure (real) or rubbish (nonsense word). Select phase 2 or 3 and the special friends your children know.
Phonics Play- Buried Treasure Game
Here are a few speedy sounds lessons you could watch at home with sounds the children are finding particularly tricky.
The children are trying so hard to spot special friends in their reading-here are some videos to show you how we teach reading to children called 'word time' which we do daily in our phonics sessions.
Here is a video showing how we spell words using our 'Fred Fingers', we use this strategy to help segment words to hear all the sounds and then pinch the sounds to help us match them to letters when writing.
For our F1 children, have a listen to this Fred Talk game, helping children blend sounds together!

We are continuing our White Rose topic on 'Find my Pattern', we will be focusing on sharing and grouping.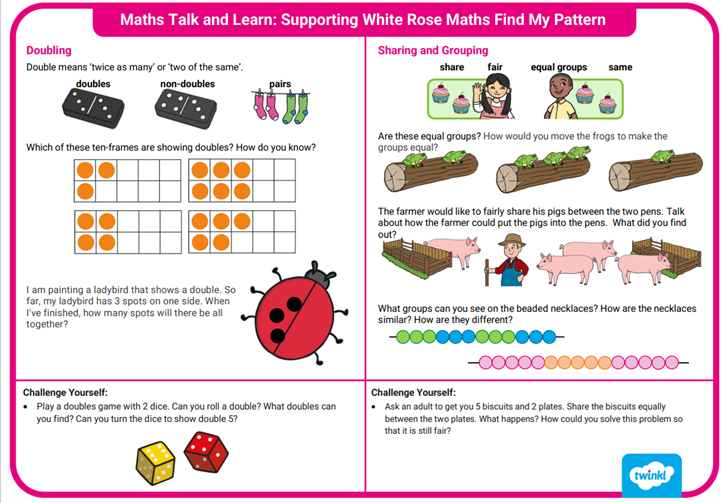 Check out this numberblocks episode, exploring patterns that make 10.