The Day the Snowman Came...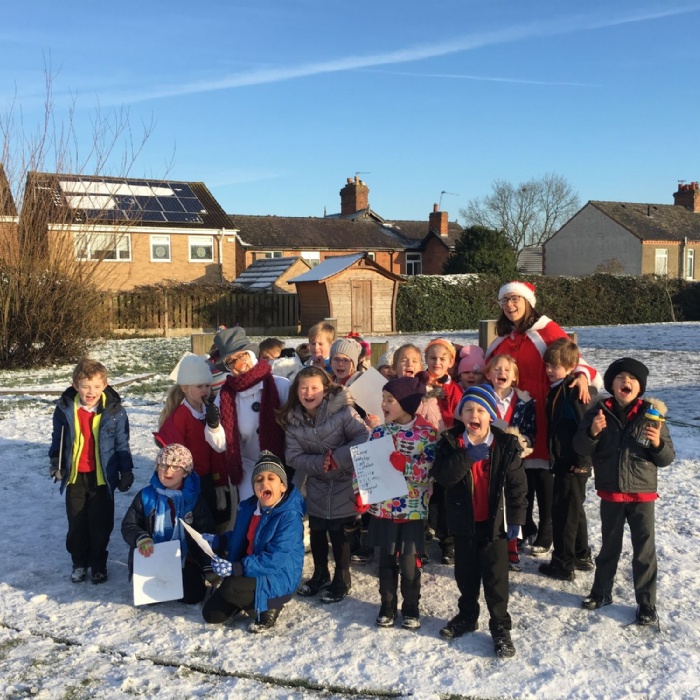 We had so much fun exploring the snow with Mary Christmas and the Snowman!
On Monday night our Year 2 children received a very special invitation from the Snowman inviting them to come to his Winter Wonderland. This morning all the children lined up smartly but unfortunately Mrs King had been struck down with tinselitis so Mary Christmas was there to greet them.
Once phonics had finished, the children sat in the hall with Mary Christmas and thought of some great questions they might like to ask if they ever got to meet the Snowman. Where do you go when you melt? How do you fly? What is your favourite place to fly past? What do you like to eat? AND What is your best kind of nose? were just a few of the questions the children came up with. Without warning, Mary Christmas then took a phone call and all the children had to line up and make their way to the classroom. What they saw was AMAZING...!
Overnight, the classroom had been transformed in to a wonderful winter wonderland with blankets of snow on every table, glittering showflakes falling from the ceiling, white wintery waterfalls cascading down the walls and an icy river ran in between the tables, it was beautiful! And there, in the middle of a snowy room was... THE SNOWMAN!! The children had fun asking all their very important questions and then, as the snowman was getting a little warm inside, they all went out and played in the real snow.
When they got back inside it was time to start writing some winter stories. The Snowman gave each of the children a very special Christmas hat to help them do their very best writing! It was a magical day and we hope to be able to share all the children's stories with you very soon.
To see loads of photos from our magical day, click here.