Harry Potter Book Night- Invitation Only!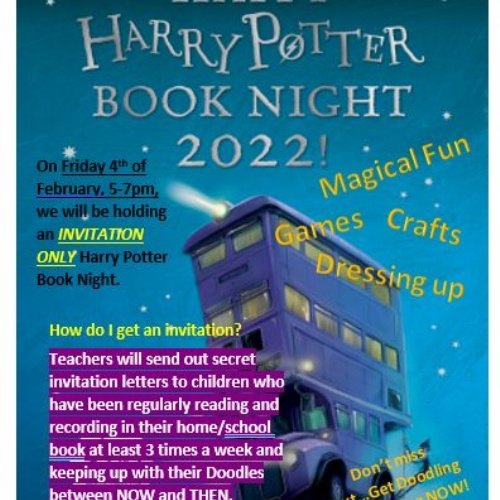 As an incentive to help the children (from F2- Y6) get back into their reading and doodles after the Christmas break, we will be holding an INVITATION ONLY Harry Potter Book Night on Friday 4th of February (5-7pm) to celebrate 25 years since JK Rowling released Harry Potter and the Philosopher's Stone.
How can my child get an invitation?
It's simple- they will be invited by a secret letter no later than the 28th of January if they are consistently following the school homework policy by:
Reading and recording in their home/school books at least 3 times every week.
By keeping up to date with their doodlemaths and doodlespell each week.
The class teachers will be monitoring these on a weekly basis and making a list of pupils who are meeting the required expectations. Please help your child at home by encouraging them.
As always, you Class Teachers, Mrs Buttery or a member of the Senior Leadership Team will always help if you are having problems with accessing doodles from home. Come to us ASAP.
What will they do at the Book night?
The event will be filled with lots of Harry Potter themed games, crafts and other magical activities. They can even come dressed up as a witch or wizard if they so wish! It will be a great night for all involved.
See full poster attached!