Q and A Session With Autism Expert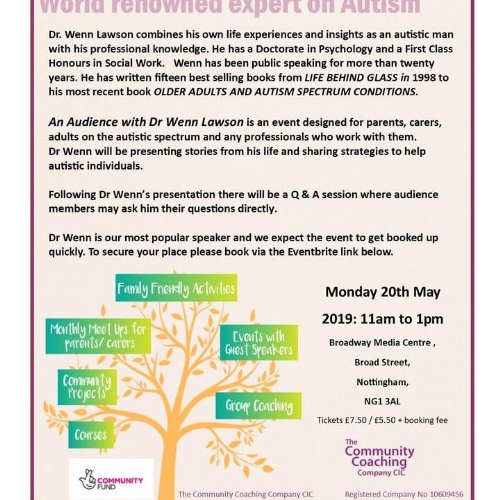 Seminar followed by Q&A with renowned expert in Autism Dr. Wenn Lawson. His life, his work, his books, his strategies.
About this Event
Dr Wenn (PhD) an autistic lecturer, psychologist, researcher, advocate, writer and poet has passionately shared his professional and personal knowledge re: Autism, for 25 years. He has written and/or contributed to over 20 books and many papers.
He is a tutor for the University of Birmingham's Masters in Autism course, participant with the autism Co-Operative Research centre (ACRC) Australia, member of the 'I CAN' board, Australia, residing on the editorial board for the journal AUTISM IN ADULTHOOD. Dr Wenn consults for the South Australian Government, is a family man with autistic and non-autistic children and grand-children. In 2017 he presented to the United Nations on matters of Autism and ageing.
An Audience with Dr Wenn Lawson is an event designed for parents, carers, adults on the autistic spectrum and for education, health and care professionals.
Dr Wenn will be presenting stories from his life and sharing strategies to help autistic individuals.
Following his presentation there will be a Q & A session.
Dr Wenn is our most popular speaker. Please book early to secure your place.
Ticket prices:
Professionals : £7.50 + Eventbrite booking fee - for Education, Health or Care Professionals/ organisations.
Parents / Carers: £5.50 + Eventbrite booking fee - for Parents/ Carers of Children/Adults with AS/Disabilities.
Concesssions: £5.50 + Eventbrite booking fee - for those registered disabled, under 18s, those in receipt of income related benefits, students & retired people
The Community Coaching Company CIC is a not for profit organisation providing accessible, free/low-cost courses, events & activities for families of children and adults with additional needs. We support the needs of families who are looking for ways to connect with their peers and improve the well-being of their families. We provide a range of coaching opportunities, community events,training courses and inclusive family activities rooted within their communities.